BY LAUREN ESCHENBRENNER
Portobellos, the restaurant located on the Canton – New Hartford line, is widely unappreciated and should get the recognition it deserves.
The restaurant and lounge is a place where people can dine in peace and quiet, and there is also a bar with TVs, usually displaying sports events for those who like to watch when they eat or drink. The bar has a variety of beer and cocktails that parents will surely enjoy, and a delicious menu that gives everyone a variety of amazing choices. They're notorious not only for their brick oven pizza, but for their pasta dishes as well. The different types of pizza, pasta, salads, are all on the menu provided on their website.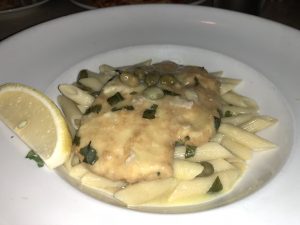 Portobellos opens at 11 am and close at 10 pm, seven days a week. People dine in and take out food, but Portobellos also provides a catering service for parties. Their website includes further information about catering events and the menu specifically made for it. The number is also available if you want to call and place an order.
Not only is the restaurant a safe and laid back environment, but the prices are reasonable to ensure that the guests do not have to worry about expensive dishes. For example, a small portion of the Chicken Francese and Chicken Parmigiana costs about $16-$17, which includes bread rolls and butter. The normal price range is around $15-$30.
The restaurant is directly located on Route 44 going towards New Hartford at  107 Main Street, New Hartford, CT 06057. It's hard to miss – they have a giant orange sign across from Satan's Kingdom State Recreation Area. The number is provided on the website above as well as a Google Maps template to help people navigate to the restaurant.
Portobellos has been around for many years and has been a favorite restaurant for Canton and new Hartford locals. With their many delicious offerings, that comes as no surprise.