CHS Teachers Take on the Harlem Wizards in Benefit Game
BY NATE FULHAM
2017 kicked off strong with high-flying acrobatic dunks and a dose of comedy as Canton Schools Teacher Staff team, the Ankle Breakers, went up against the Harlem Wizards in a game of basketball in the Canton High School Gymnasium, on Tuesday, January 10, 2017.  
From the pregame dance-off to the alley-oops from Wizards Road Runner and Sarge, the night was entertaining for adults and kids alike.
Canton High School's team, the Ankle Breakers, was comprised of teachers and staff  Matt Brintle, Andy Buckle, Patty Canny, Sean Cole, Eric Deegan, and Benn Gawitt.  Even with the staggering athletics of the Wizards, several Ankle Breakers scored multiple times, including Benn Gawitt, Eric Deegan, and Andy Buckle.
A few children went home with memorabilia including jerseys worn as they sprinted around the court before the game, as well as a hat and mini-basketball for one boy who chased a twenty-dollar bill around the court.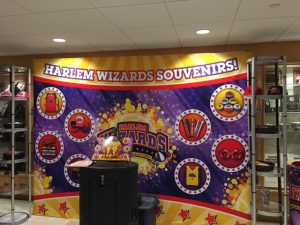 Ankle Breaker Patty Canny said that everyone "had an absolute blast! [It was] great to see so many families together and so many smiles in the crowd!"
The proceeds from this fundraising game are to benefit the Canton Athletic Booster Club's  Lights on Canton, which is raising funds to bring permanent lights to the CMS/CHS Track and Field Athletic Complex.
photo by Emily Mitchell
cover photo from harlemwizards.com