Spring is in full bloom and visits to Connecticut's 110 state parks are on the rise. State parks by definition are places of land which are preserved by the state. 
Having so many state parks allows for enjoyment of the outdoors as well as safe exploration of nature without having to travel too far from home. Not all state parks are created equal, however. Since some are better suited for novice hikers, while others made for more experienced hikers, it's always a good idea to choose the kinds of trails that are appropriate to your skill level.
There are certain components of state parks to consider when making your choice of which ones to visit. Elevation gain, difficulty rating, and variety of trails are all important things to consider when choosing a path to hike especially for people who are inexperienced in hiking. 
Of course there are more factors to take into account when choosing a state park to visit. In reviewing some of Connecticut's state parks parking and accessibility are also key factors in making a good visit to a state park. 
This review will be specific to the following parks: Wadsworth Falls State Park, Devil's Hopyard State Park, and Stratton Brook State Park. 
Wadsworth State Park in Middlesex County CT is a 285 acre forest tucked into a residential neighborhood. When I visited it on a rainy day, the parking lot was completely empty; however the pot holes were almost unavoidable. The parking lot was large and unpaved right off a fairly quiet road. Finding the park was easy after getting off the highway with all the signage around the area. 
The trails were wide and very well trodden, making it an easy walk enhanced with beautiful foliage. With many different trails to choose it seemed like one could walk forever without walking the same trail twice. Signs mark the trails making it simple to get to the set of falls, for which the park is known.  
Wadsworth is a state park filled with relatively flat and wide trails with a beautiful waterfall tucked away inside it. Despite large potholes in its parking lot, Wadsworth is a smart choice for novice hikers who desire to experience nature without much effort.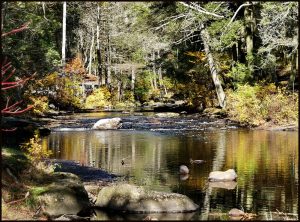 Devil's Hopyard State Park is a much different kind of park. Located in East Haddam, Connecticut, Devil's Hopyard is not for the faint of heart. To start, finding the park was rather challenging after getting off the highway, involving lots of blind curves and bumpy roads along the way. There is very minimal parking in the actual lot itself and the winding road makes it challenging to find parking on the street. 
The good thing about parking on the side of the road is that a trail entrance was only 10 feet away from where we parked. Once into the park, we learned that it is loaded with trails and lots of beautiful creeks. The trails themselves are rather narrow with some steeper parts, and some of the more popular trails have completely eroded the natural habitat making them considerably more different than their less popular counterparts. 
The waterfalls attract lots of people and they are found easily as they're visible from the parking lot. Although the falls are the main attraction,  there are beautiful spots found all along these trails. 
A downside to Devil's Hopyard is that the narrow trails make it hard to socially distance from other hikers. While possible to step off the trail and let others pass, there are places where there is really no place to step off the trail. Nonetheless, Devil's Hopyard is a great state park for hikers who have more experience or at least a lot of determination.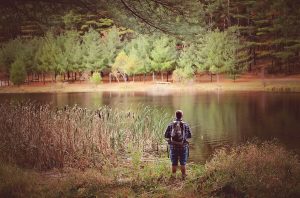 Stratton Brook State Park in Simsbury Connecticut is an easily accessible park for all to use. Home to many Cross Country races in the fall, Stratton Brook's wide trails and wheelchair accessible boardwalk make it a great place for all differently-abled hikers to experience nature. 
Right off a residential road, Stratton Brook's long driveway and lots of parking make it an easily found park. With a pond for swimming as well as a pond for fishing,  there is more than just hiking offered here. Pavilions and picnic tables are scattered along the beautiful trail. The main trail connects to Farmington River Trail and is a smooth ride packed down with gravel. 
The red covered bridge is vibrant among the wooded forest in which most trails are found. With many miles of trails, there is no shortage of space. In the time of COVID these wide main trails make it easy to socially distance. Trails range in difficulty, length, and width, some much steeper than others. Stratton Brook is a great park for all different kinds of people who just want to get out and enjoy nature. 
As the mercury begins to soar, state parks will once again become filled with people after a long winter season. No matter what level of skill a hiker one is, there is a state park for everyone. Each state park has its own unique qualities which make it special.