The Greatest Showman and Its Message of Empowerment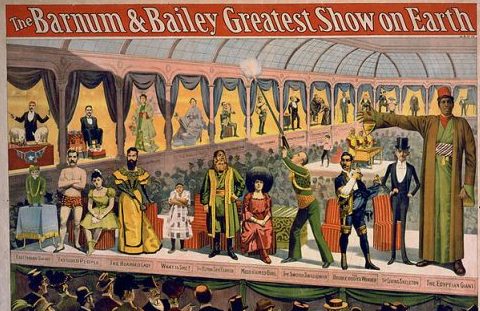 "The Greatest Showman" directed by Michael Gracey chronicles the creation of extraordinaire show business through the journey of a man who grew from being a nothing to a sensation who built a worldwide organization.
The story revolves around a man named Phineas Taylor Barnum, most famously known as P.T. Barnum, who was born on June 5, 1810 and grew up in Bethel, Connecticut. He soon moved to New York to become a promoter, running the Barnum American Museum from 1844 to 1868. However, in 1871, he launched the traveling spectacle that would eventually become the Ringling Brothers and Barnum & Bailey Circus. Barnum died in Bridgeport, Connecticut, on April 7, 1891 after his eventful career.
Hugh Jackman portrays P.T. Barnum himself, giving an outstanding performance with his surprisingly good vocals and techniques. Jackman gives the film a euphoric aura to it, making the audience become truly invested in the unfolding story as he goes on an adventure to put together his show, hitting hindrances along the way and making new allies. Other notable performances are made by Zac Efron as  Phillip Carlyle, who contributes to Barnum's  show and  Zendaya who plays the trapeze artist Anne Wheeler. Both do an excellent job portraying the struggles against judgemental people around them during a time of racial and social prejudice.
The movie also touches upon sensitive topics about appearance and identity, racism and sexism, all obstacles that the performers face. The show that Barnum creates consists solely of people considered to be outcasts of the society, people who are ostracized for their differences. Yet, despite these struggles, they find their own way to stand up against the derogatory terms and the judgemental looks, which sets a model for the audience who could be going through the same struggles. The film teaches people to be proud of their differences and have self positivity. It also touches upon how media can affect people with false accusations, and how family is important. Family doesn't mean just blood related, but can be emulated with the people who are special.
"The Greatest Showman" is definitely a must see movie. Jackman does a phenomenal job portraying the ringmaster, and brings the movie to life. The movie elicits a roller coaster of emotions, and experiencing it first hand is phenomenal. It makes the audience appreciate the dedication and hard work that people had to go through to let the show go on and be strong. The inspiring performers leave a mark – a positive one.