BY BEN RUSH
The play "FAME!" that is appearing in the school auditorium this weekend  is set to be another excellent production. However, few people know the lengths the cast and crew go to in order to make the performance flawless.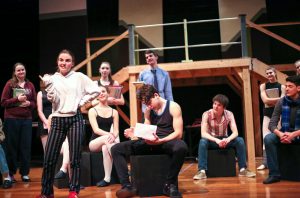 "FAME!" follows the students who attend the High School of Performing Arts, throughout their four years of high school. The colorful cast of students include, as co-stage manager Christine Babbitt states, "fame-obsessed Carmen, ambitious actress Serena, wisecracking comedian-bad boy Joe, quiet violinist Schlomo, 'talented but dyslexic' dancer Tyrone, determined actor Nick, overweight dancer Mabel, and poor dancer Iris." The play runs from Friday March 16 through Sunday March 18..
"The musical cast has been rehearsing since late December," said Babbitt, who also stated that the cast rehearses on both Tuesday and Thursday evenings, and Friday after school. During the two weeks prior to the show,   "they rehearse[d] every evening."
Babbitt's role in the production has her in charge every night rehearsals are on. Her job requires her to know of the entire script front-to-back. She knows every scene, song and technical cue and how they are all supposed to play out.
Rowan Cookman, who is playing the comedic relief, Jose (Joe) Vegas, commented that the rehearsals are regularly two and a half hours long, in addition to happening three times a week.
Even the pit orchestra, as Julia Tarinelli, a member of the orchestra states, has started practicing once a week starting last month, to fine tune their music so it fits the play perfectly. The orchestra's job, she commented, is to play the background music, as well as the music played in between transitions.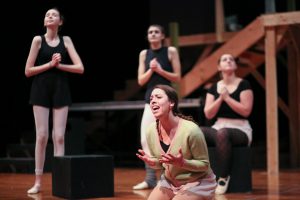 These students often spend hours and hours, week after week, rehearsing their lines and tweaking their tech to make sure the performance goes off without a single hitch. But for the people interviewed, all three of whom have at least one year of previous experience, it's all worth it.
When asked about the play, Babbitt told the reporter that the show has "a different style than anything we've done in the past couple years," pointing out that "FAME!" "has multiple leads, intense dancing and interesting plot lines."
For Cookman, who has done the school's play for four straight years, even he can't wait for opening night. "I'm extremely excited for the play this year. We put in a lot of work and it's always really fun when students come to see the show."