On May 11, 2018 Canton High School Students attended junior prom at the North House in Avon Conn.    


This was a new venue for the Class of 2019 this year. It was a grand open space with a bar, backyard, and ballroom.  
Canton High School students were fortunate to have their former Class of 2017 peer Noah O'Leary be their professional photographer on their special night.
The selected theme for this year was "Under The Stars." Music was [provided by a DJ who played tunes throughout the night. At the venue, food was served buffet style to students. The menu for the night included tacos with all the fixings, Asian stir fry, along with several pasta selections.
"I think the prom went good. I had a lot of fun and everyone got along" said junior Liberty Poulin. "Dancing to throwback music was the best part of the night. I thought everyone looked really nice!"    
As well as some having a formal date for this occasion, several groups of friends went to prom with one other to have a wonderful time. 
" Prom was awesome!" exclaimed junior student David Bonetti. " The food, music and mocktail drinks were great".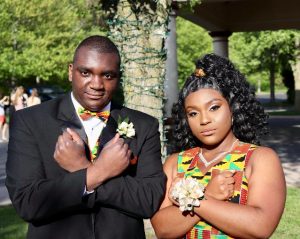 Towards the end of the night, prom king and queen selections were made by CHS students via online voting. The winning couple for junior prom was Gavin Wood and Caitlin Bertolino. Each student received a sash and crown according to their title won.
Prom is a time for the whole class to come together to have a spectacular time collectively. In high school, this doesn't happen too often. Canton High School students and staff surely cherished this night.