Summer Nights – Senior Prom 2017
BY KASEY CHARRON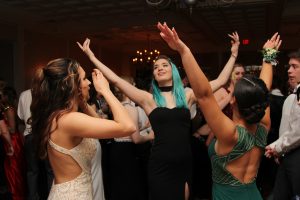 Canton High School seniors attended their final class "summer nights" prom at the Farmington Club on Friday, June 2nd
Pictures began at 5:00pm, and students began arriving at the venue at 6:30pm. Dinner was served soon after, and dancing lasted until 11pm.
Throughout the night, students took photos in the photo booth, and helped themselves to endless ice cream and smoothies. Canton High School senior Anthony Burns enjoyed the food that was served.
"I loved the steak, [and the] mashed potatoes were very avant garde," Burns expressed. "I wanted more, it wasn't too much."
It was announced midway through the dancing portion of the night that Emily Briggs and Santiago Noriega had won prom king and queen.
"It was nice, they looked really surprised," senior prom attendee Brianna Marino commented.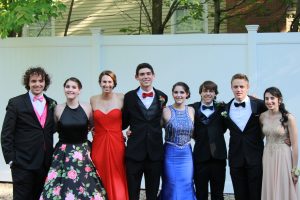 Stylistically, senior Tori del Aguila felt that seniors took things down a notch this year.
"Two pieces are going out of style, and girls are definitely buying simpler dresses," del Aguila observed. "There are lots of solid colors and nothing too flashy."
Del Aguila reported her dress this year cost $159, a price that's considered relatively cheap when considering that PromGirl reports most prom dresses cost between $100 and $400. Del Aguila feels that senior girls this year seem to be finding ways to save money on prom, by "doing their own hair and makeup," and finding inexpensive dresses.
"It's sad that it's becoming so expensive because when people think about prom they think of the princess treatment but it's impossible to afford," Del Aguila expressed.


According to 2017 class secretary, Maddie Brown, preparations for prom began last year when the class officers chose the location of the prom. The rest of the planning began after Spring break, when the prom committee would meet every Wednesday after school that wasn't interrupted by half days or AP tests.
"We had to take a lot of time to organizing the tables to make sure everyone had a seat and dietary needs were met and everyone had something to eat," Brown explained. "That and hunting people down for class dues so that they could actually buy a ticket probably took the most time."
Brown also expressed that expectations ran high this year after last year's junior prom was such a success. Burns, who has now attended six proms, felt the expectations were met.
"Prom was a hoot and a half," Burns explained. "I had a really fun, awesome and hoot-full date."