Substance Free Students Spread Positive Messages
On Thursday, November 15 during conference week, the Substance Free Students club hosted a hot chocolate hospitality cart with healthy treats. The purpose of the cart was to spread positive messages without the use of drugs. Students that stopped by were asked to sign Chris Herren's "I Am Good Enough" Pledge Sheet.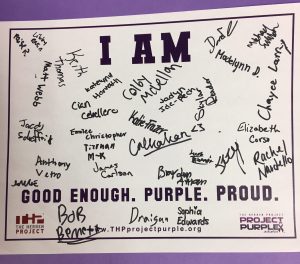 Over 200 CHS students signed the pledge sheet.  Many were given a purple wrist bracelet to help reinforce this important message.  The Project Purple initiative was launched by Chris Herren to promote students to be drug free, celebrate life,  make good choices, and dream big. Chris Herren shared his message with the entire school in October during a school assembly. During this assembly, Chris recounted his struggle with addiction as a pro-basketball athlete and how he is inspiring others to make good choices in life.
This coming January, the Substance Free Students and the CHS Athletic Department will sponsor the THP Purple Initiative Week, which will be held from January 22-28, 2018. Many events and activities are planned to showcase the initiative and build a support system for students that are making good choices every day.  
Substance Free Students always welcomes new members and meets on Thursday mornings at 7:15 in Room 140.