CHS Team Competes in Ocean Science Bowl
Jessie Webb, Lila Hunt, Samantha Dionne, Ian Witzgall, Lynzee Mills, and Marissa Schroeter get ready to compete in the National Ocean Science Quahog Bowl. – photographs by Marsha Jorgenson
BY MEAGAN LAUDENSLAGER
On Saturday,  February 4, 2017, Canton High School students Ian Witzgall, Marissa Schroeter, Jessie Webb, Samantha Dionne, Lynzee Mills, and Lila Hunt went to the 20th annual regional National Ocean Science Quahog Bowl at the Univerity of Connecticut Avery Point in Groton, Conn. There they made it to Round 6 of 9 and competed against teams from Connecticut and Rhode Island.
"This was the third time that CHS has competed at this event and scored a competitive finish against 16 other teams for the afternoon seedings and elimination rounds," Science Department Chairperson Marsha Jorgenson stated.  "Question topics cover[ed] biology, physics, geology, chemistry of the oceans, ocean history, policy, technology and current events."
To prepare for this big event, the team met weekly throughout December and January to study, using information from the official website of the National Oceans Science Bowl and quizlet they made up.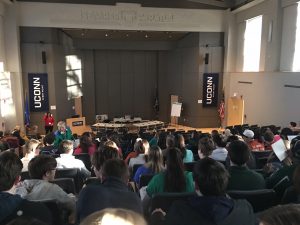 The team left CHS at 5:45 a.m in order to meet the start time of 7:00 a.m.  Upon arrival at UCONN, students were greeted by numerous marine science policy advocates, scientists, professors, and leaders from the University of Rhode Island and UCONN.  Each team received badges, bags, passes to the Mystic Aquarium and Mystic Seaport, a boat ride, and a T-shirt.
The competition between teams was fast and intense. Each round started with two opposing teams facing off with multiple choice questions that an individual team member had to buzz for in order to answer, followed by a full team challenge, in which all members could collaborate on the answers.  The rounds were repeated several times until teams were eliminated.
"It was really interesting and fun, but also stressful at the same time. It was a very worthwhile experience, and definitely put me out of my comfort zone, " participant Lila Hunt recalled. "[My team members] were all really nice, and I had a lot of fun…studying with them and having this experience with them. They are a great group of kids, [and] I learned a lot with the help of Ms. Jorgenson, who did a good job in helping us with our studying."